Expo - Performance 2011
Images from the performance courtesy of
Thomas Bernardet
.
'Factures Décoraratives 1983-2008' (B)
Rossi Contemporary, Rivoli Building, Ground Floor 17, 690 Chausée de Waterloo (Bascule), Brussels. 17th September 2011 - 10th October 2011.
Dans la galerie il vous est proposé un rendez-vous d'envergure avec l'œuvre picturale de l'artiste autrichien résidant en Belgique Kurt Ryslavy.

S'échelonnant sur une période de 25 ans entre 1983 et 2008, les œuvres sélectionnées illustrent un travail pictural particulièrement original où se rencontrent de manière inédite deux esthétiques nationales, l'autrichienne, dans ses composantes expressionniste et actionniste, psychique et fétichiste et la belge dans son approche conceptuelle de l'acte artistique. Une peinture au souffle international, aux convergences nombreuses avec les recherches d'artistes tels que Martin Kippenberger et Franz West, dont Kurt Ryslavy a été familier. L'exposition retrace les différentes étapes de son parcours.
Performance At 16h00: Sensation

Le jour du vernissage Kurt Ryslavy fera une performance à 16 h dans la galerie Rossi Contemporary. Un photographe sera présent pour documenter l'action et une sélection de 7 à 10 photos sera publié dans un classeur comme édition d'artiste en 6 exemplaires. Cette édition sera proposé par Françisco Rossi en subscription le jour même.

Le vernissage commencera à 15 h. J'arriverai à la galerie en trenchcoat à 16 h; j'ouvrirai mon manteau comme un exhibitionniste qui veut choquer les petites filles; le côté interieur de mon manteau sera confectionné par un tailleur avec plusieurs dispositifs qui contiennent de petits tableaux, de vraies peintures minuscules (trouvées "ready"/ déjà peintes par diverses amateurs, sur le marché aux puces); dans cet accoutrement, je vais m'adresser aux visiteurs de la galerie pour vendre "à côté" ("en off") des tableaux, par vente directe "du producteur au consommateur", et sans que le galeriste puisse en profiter. Sur le dos de chaque tableau, il y aura un cachet "POUR ACQUIT", ma signature, et "50 €" écrit à la main (en annexe le T-Shirt que je vais porter à cette occasion). On pourrait considérer ces tableaux vendus sous le manteau comme "multiples"/ édition limitée, bien que chaque tableau représentera une oeuvre unique. le drame de la relation artiste/ galeriste matérialisé en oeuvre se présentant avec le dos en vue et la côte image contre le mur - et - notamment un document d'importance fiscale par la signature.

L'édition des photos sera accompagnée par le T-shirt originale, également une edition de 6 exemplaires.
---
'Farbe-Raum-Konzept/ Malerei' (DE)
Performance Kurt Ryslavy on Saturday 16th July 2011, in the context of exhibition 'Farbe-Raum-Konzept/ Malerei' (25 years of Galerie Schütte), 2 July to 10 September 2011.


---
'De Wijn - Het Herwinnen Van Een Reputatie' (NL)
Kurt Ryslavy performance at
Kunstfort Asperen
,
Langedijk 60
, 4151BR Acquoy, The Netherlands on
11th June 2011
between 14 and 17 h.
The occasion is: 'Too late, too little, (and how) to fail gracefully' (Bik Van der Pol) invited the Mobile Academy/ Hannah Hurtzig who invited Kurt Ryslavy as an "expert" for "DEFENSE LINES BLACKMARKET FOR USEFUL KNOWLEDGE AND NON-KNOWLEDGE" within this context of an "indringende zomerexpositie".
Susan de Heer over K.R.: We willen uw uitnodigen naar aanleiding van Europäer. U overschrijdt niet alleen de grens tussen kunst en wijnhandel, maar het werk handelt in zeker zin ook over hoe de Oostenrijkse wijn in België in zekere zin als indringer wordt behandeld."
---
'Kurt Ryslavy, Collector, Wine Merchant, Sunday Painter. A Conceptual-Sculptural Intervention at the MAK Study Collection Furniture.' (AT)
In the context of exhibition
6 April - 1 May, 2011
. MAK Study Collection Furniture, MAK, Stubenring 5, 1010 Vienna, Austria.
The artist was present at the exhibition as part of the performances on the exhibition's opening evening on 5th April, as well as on 10th April (1-4 p.m.) and 24th April 2011 (11 a.m.-2 p.m.).
Download
the press release (pdf).
Exhibition synopsis (from MAK web site):
"In this project, selected objects from the MAK collection are to be arranged by Kurt Ryslavy. He will do so as collector, as a wine dealer and as an artist, thus giving rise to a complex sort of intentionality and, what's more, making space for a wine bar which once served as an installation in an exhibition by
Harald Szeemann
. Since art itself has become nothing more than a market, it will also suffer the market's fate. By exorcizing and/or banalizing mystification, Ryslavy prevents the capitalist control of societal creativity, a control which purpose is, of course, to mystify. The value of Ryslavy's art lies not in its aesthetic standards of quality, but rather in its complex reflection on the division of labor, subjectivity and immaterial work." (
Peter Weibel
).
---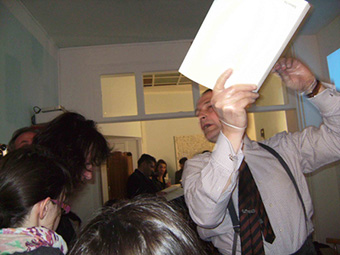 'Té veux faire l'européen' (FR)
Saturday 12th March 2011, 18h, in the context of the exhibition 'Living room – moquette partout…', artconnexion, 9 Rue du Cirque, Lille, France.
Le titre (chti, argot nord de France Bas de Calais) derive d'une chanson (Tu v(u)ò fà' l'americano) qui raconte l'histoire d'un italien qui veut imiter le style de vie américain, en buvant du whisky-soda, en dansant le rock and roll, en jouant au base-ball et en fumant des Camel, mais qui ne peut s'acheter lesdites cigarettes qu'en puisant l'argent dans le sac à main de sa maman.

Kurt Ryslavy distribue gratuitement son livre 'Europäer' (qui pèse +/- 2000 grms) à toutes les spectateurs qui en veulent. Il fait ça d'une façon legèrement dansant d'aprés un bête rythme automatisé provenant d'un petit clavier "syntheziser" pour enfants (jouet); son but est de faire ça d'une façon la plus vite que possible.

EUROPÄER

Europäer est un texte autobiographique mis en page avec la collaboration de la graphiste Randa. [...] Véritable manifeste de la pratique de cet artiste, devenu vendeur de vin autrichien pour subvenir à ses besoins, Kurt Ryslavy a intégré subtilement sa pratique commerciale et dégustative au corps et à l'esprit de son œuvre, lui apportant sa raison d'être. Le texte qui nous occupe [...], publié en 36 langues européennes, vise naturellement, par ses enjeux comme son utilisation liminale et parodique d'une rhétorique commerciale, un large public international.

"What do you expect from a perfomance as a visitor? You want to get something, information, emotion, physical and mental experience etc. On Tuesday 12th of March 2011 you will get something, that you can carry home after the performance by Kurt Ryslavy. It's weight will be a bit less than two kilos, and it's value will be somewhat between 25 and 50 €, let's see."
---
'Collector ... Qu'est-ce Que C'est?' (B)
Kurt Ryslavy shows parts of his collection in the exhibition Sammlerleidenschaft.
Exhibition 26th March - 1st November 2001, Museum Admont, Austria.
On display you see works by Vaast Colson, Martin Creed, Michel Francois, Martin Kippenberger, Franz West, Koen Theys, Michael Can den Abeele, a.o.
---
'A Waxy Pith Occassion' (B)
PERFORMANCE by Kurt Ryslavy: An Act in Two Parts




Excerpt from text about the artist, by Hans Theys: "It is as if the real Kurt Ryslavy is hiding behind all these layers, like the theatre director of the old days who invested in his own productions and followed the events on stage and in the auditorium from behind the ingeniously sliding coulisses. It is also possible that there is no director at all... You can try to look at Ryslavy's work and enjoy the way humour and seriousness overlap in a game with the representative effect of objects and images."

Link to Waxy Pith web site.
---
'Le Vin Autrichien est arrivé' (B)
Kurt Ryslavy expose au
Musée du Point de Vue
, 192 rue Antoine Dansaert B-1000 Bruxelles.
Vernissage: samedi
29 Janvier 2011
entre 14 et 19 h. Exposition 29 janvier - 5 fevrier 2011.
Les mots de l'artiste:
"Les prix sont au dernier dessous ('dans la cave' comme disent les germanophones), parce qu'il s'agit ici d'une institution 'non commerciale', cernée de galeries 'non commerciales' (Jan Mot, ets. d'enface, etc.) dont je ne supporte plus l'attitude".
---
Group Shows 2011
External Links »