Expo - Performance 2014
'Public View and Performance' (B)
Platform 102, Rue Antoine Dansaert 102, 1000 Brussels, Belgium.

Sunday, December 14th 2014 from 15h -19h. Performance begins at 16h30. Private viewing is Wed. to Sun. 13h - 18h, Dec. 17th 2014 to Jan. 25th 2015.

For his presentation at Platform 102, Ryslavy will install paintings, objects and ephemeral that serves as a conceptual business practice related to his wine import company. The installation will serve as a middle ground within Kurt Ryslavy's everyday existence merging commerce, ideas of taste and the art market.

Ryslavy will also present "Immersive Environment" a labour-intensive performance on-site during the public view. Limited edition objects created during the performance will be offered to spectators with specific conditions relating to purchasing power and investment. Objects created during the performance will be available for viewing over the course of the presentation, if not purchased during public view. Ryslavy's performance serves as part of the Platform 102 curatorial project "Object Based Performance" (OBP). OBP examines artists who use visual items as distinctive parts of their performances and/ or those artists who create items to initiate participatory actions.
---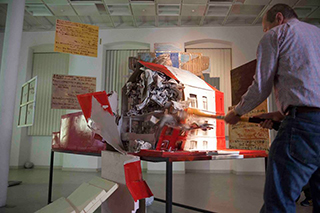 'Nyau' (CH)
L'espace d'art contemporain EAC (les halles), Rue Pierre-Péquignat 9, CH-2900, Porrentruy, Switzerland.

Exposition du 29 juin au 24 août 2014. Vernissage en présence des artistes samedi 28 juin à 18h00. Rencontre avec les artistes dimanche 29 juin à 15h00.

The contemporary art space EAC (les halles) brings together three artists of different nationalities, who in their own line of artistic activity have developed the project 'Nyau' via internet. Daniela Belinga (CH), Samson Kambalu (UK), Kurt Ryslavy (B) forge links closely rooted in their respective cultural heritage. They meet in their approach to make art an arena for critical thought and sovereign activities.
Print produced as part of project:
'sunday 048 #s A 45° Fine Art Affair'
A1 offset print (two colors) on multi-offset
signed and numbered edition of 35 (+ 65 A.P.)
Price: 225 CHF (185 €)
Kurt:
"The idea for 'sunday 048 #s A 45° Fine Art Affair' came up some months before I took part in the 45° Northern Wine Fair (Antwerp) on Sunday 12 June, 2012. It was not published by MOREpublishers, because their format is not linked to events. So I had to wait until another perfect moment to go public with this invention, pertaining to my own practice: as part of a Nyau triptych, in which Daniela Belinga and Samson Kambalu display the other two sections.
"
---
Friday, May 2, at 6:00pm - 9:00PM, former diamond shops in Antwerp Central Station. Performance 'Der Einfall ersetzt nicht die Arbeit' (from citation of
Max Weber
) by Kurt Ryslavy.
Part of
TRAFFIC
, a combination of exhibitions and ventures initiated by Lokaal 01 with the aim to generate a new cross European dynamic in Contemporary Art.
---
'Leaving Sculpture' (B)
2M3
&
w-o-l-k-e
, performance / installation, Saturday
25th January 2014
, from 19:00. Vaartstraat 45 Rue du Canal, 1000 Brussels.
Kurt: "I will occupy a space of 2 m3 and do a performance of 15 seconds. My contribution "leaving sculpture" is a spoonerism (parody) on Gilbert & Georges work "living sculptures". I will sit in my little space reading a book, drinking some austrian wine and watching whats happening around (performances by fellow artists). When it's my turn to perform – I will take my book and wine and leave the space. On the spot/ place that I just left, there will remain a small installation "ART SELF-SERVICE" : 10 paintings 60 x 60 cm, oil on canvas, and a wooden box to throw money in. Like sometimes - in the countryside - you find flowerfields to pick up your flowers yourself – there will be a sign that indicates that you can pickup and pay the painting you take with you. It's indicated, that the price of a painting/ canvas is (only) 140 €."


Christine Vuegen in H-ART 2012: "...Is hij knettergek, visionair of allebei? Is hij een grappenmaker die zich opperbest amuseert, een gewiekste zakenman, een kunstenaar in hart en nieren of een kameleon die de kunstwereld een beentje licht? Wat hij ook is, hij fingeert niet. De wijnhandel bestaat echt, de facturen zijn echt en dat garandeert de authenticiteit ..."
---