Expo - Performance 2015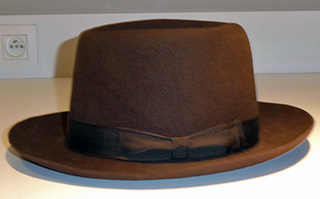 '7 Years Of Indecency - Book Launch' + 'Le 72 Spose Vergini Siamo Noi - Launch Edition' (B)
22nd December 2015, 7PM, Etablissement d'en face, Rue Ravensteinstraat 32, 1000 Brussels.

'7 Years Of Indecency' published by Gevart Editions.
---
'Pour la création je m'accorde du temps' (B)
8th December 2015, Université de Namur, Auditoire PA02 Pedro Arrupe - rue de Bruxelles, 65 - 5000 Namur.

Performance by Kurt Ryslavy at 21h45 in the context of a day long conference "Regards croisés sur l'art contemporain", which also features a performance by Jacques Charlier.
---
'Nahe Ferne' (AT)
Landesmuseum Niederösterreich, Kulturbezirk 5, A-3100 St. Pölten, Austria.

Exhibition: 21/11/2015 - 31/07/2016.
Among others, works by Uli Aigner (Berlin), Kersten Chmelka (Berlin), Inge Dick (Mondsee), Michael Lechner (Paris), Erwin Redl (Bowling Green, Ohio), Paul Z. Rotterdam (North Blenheim, upstate New York) and Kurt Ryslavy (Bruxelles, Belguim) are on show.
Book launch: Kurt Ryslavy - 'Seven Years of Indecency' (Gevaert Editions) in the evening of the opening.
---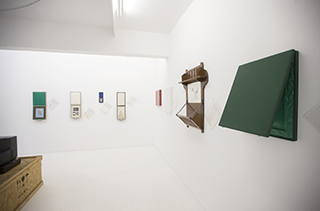 ''Verkaufswerke' insult the intelligence of the artcollector and make him very angry' (B)
WHITE-OUT STUDIO, Van Bunnenlaan 58A, 8300 Knokke-Heist, Belgium.

Exhibition: 01/03/2015 - 26/04/2015.

'Verkaufswerke' were first shown in 1992 (Opus Operandi, Ghent), later at Kasper Königs Sculpture Projects Münster '97, and further in museums and galleries. Interestingly not one 'Verkaufswerk' was ever sold to any art collector, private individual or collection since – one 'Verkaufswerk' was stolen from the show at Landesmuseum Münster and paid for by the insurance company of the museum.
At the opening of Sculpture Projects Münster '97 I met Isi Fiszman with his friend Angel, and I asked Isi if he had already discovered my participating work within the sculpture route in the city's public space. He negated and asked what it was about, and where it would be. My answer 'Verkaufswerke' – on the marketplace and in the Landesmuseum – made him turn his back to me unpleasantly; Angel just laughed at this ribaldry, not imagining it could be the actual title of the work.
---